Ring Wrapper
High speed Rotary Ring Pallet Wrapper, capable of wrapping up to 120 pallets per hour. The Ring wrapper is one of the most robust pallet wrappers on the market, offering automatic film change, which means the operation can run without interruption.
Ideal for high volume producers especially the food and drink manufacturers. Options of top sheet dispenser and hold down platen are available with this machine. Pallet Wrappers UK offer pallet wrapping machines with rotating ring and four uprights that allow for stabilization and hermetical sealing of palletized loads, resulting in time, space and packaging film savings. The main features of the pallet wrapper are: high resolution speed, the possibility of handling pallets of different sizes and an extremely solid piece of wrapping equipment. The machine output exceeds 130 pallets per hour, and the power pre stretch film supply allows for the stretch of up to 300% by means of a balanced unwinding system, in this way the film elasticity properties are preserved without affecting the load edges. The pallet wrapper is also equipped with an automatic locking device of the ring carriage, this allows maintenance and checking operations to take place in a safe environment. The ring is light and resistant to put up with high rotation and acceleration and combined with the thickness of the steel frame this ensures maximum stability. The pallet wrapper is a market leader in technology and ideal for the higher volume user. The combination of the Pallet Wrappers UK installation and support in the UK combined with the technology and innovation makes this a winning combination for any customer considering installation of a high speed pallet wrapping line.
Rotary Arm Wrapper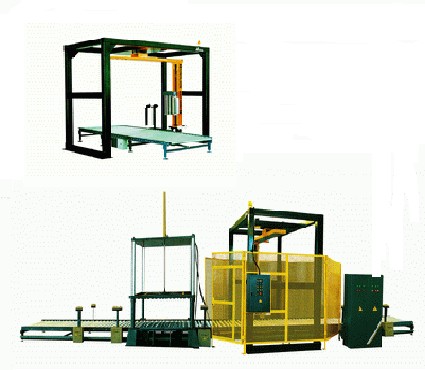 This pallet wrapper being one of the leading rotary arm wrappers on the market, capable of upto 60 pallets per hour.
Options of top sheet dispenser and hold down platen are available with this machine.
Product Description
R1800F Rotary Arms Pre-Stretch Pallet Online Wrapping Machine is mostly used in large output situations. The conveyor system can be roller or chain. We can design and specially-make machines for you according to your products and requirements.
Technology Parameters

Model

R 1800F

Wrapping Size (L × W × H)(mm)

(500-1300) × (500-1300)

Wrapping Height(max)(mm)

1800

Wrapping Efficiency (loads/hour)

40 – 60

Turntable Speed (rpm/min)

3 - 15

Film Carriage

Pre-Stretch Type, Automatic Film Feeding

Film Tail Treatment

Pneumatic Control; Automatic Film Attaching And Cutting

Pneumatic System Pressure (mpa)

0.6-1.0

Pneumatic System Consumption(ml/min)

1000

Electrical Requirement

Single Phase220V/50HZ

Conveying System

Conveyor Line Height: 400mm ; Conveyor Line Speed:15m/min; Conveyor Line Loading:1500kg

Control System

PLC

Power(kw)

Rotary Arms:0.55; Film Carriage:0.4; Steel Tower :0.37; Conveyor Line:0.75

Machine Dimension (mm)

3340 × 1800 × 3220 (Not Include Conveyor Line)

Machine Assemble

Rotary Arms Wrapping Machine + Bracket + 4 Meters' Conveyor Line + Automatic Film Attaching And Cutting Device
Automatic Turntable Wrapper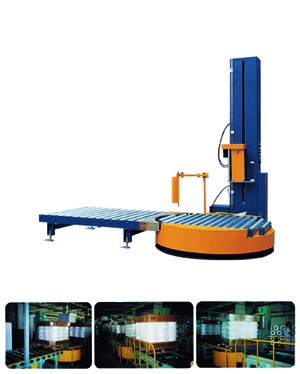 For users of up to 40 pallets per hour, this machine is the ideal entry to pallet wrapper automation.
This model has powered out feed conveyor and powered conveyorized turntable system and is able to transport a wrapped load from the turntable to the out feed conveyor. The operator can start wrap cycle by remote control and the film is automatically attached and cut, allowing the operator to do other tasks. This arrangement eliminates the need for operators to place unwrapped loads on the floor, then pick them up again when the turntable is clear.
Technology Parameters

Model

T1800

Wrapping Size(L × W)(mm)

(800-1200) × (800-1200)

Wrapping Height(mm)

L Type:(800-1800) / H Type:(5800-2400)

Wrapping Efficiency(loads/hour)

40 – 60

Turntable Speed(rpm/min)

3 - 12

Turntable Diameter(mm)

Φ: 1800 / H:400

Turntable Loading(max)(kg)

2000

Electrical Requirement

Three Phases380V/50HZ/20A

Power(kw)

Turntable:0.75; Film Carriage:0.4; Steel Tower :0.37

Film Carriage

Pre-Stretch Type

Film Tail Treatment

Pneumatic Control; Automatic Film Attaching, Cutting And Wiping

Pneumatic System Pressure(mpa)

0.6-1.0

Pneumatic System Consumption(ml/min)

1000

Machine Weight(kg)

1000Kg

Machine Dimension(mm)

L Type:2820 × 1800 × 2600 / H Type: 2820 × 1800 × 3200
Reel Wrappers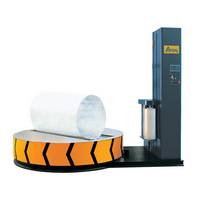 Y2000 Reel Type Pallet Wrapping Machine is designed for packing rolls of paper, film, dipped tire cord fabric and similar materials manufactured in reels. It is ideal for reel axial wrapping—across the cylindrical diameter then along the longitudinal axis. This packing method can form a cocoon type packing. It is completely Moisture Water & Dust proof packing and protects the products

Technology Parameters


Model


Y2000F


Roll Diameter(mm)


600 - 1500


Roll Width(mm)


500 - 1600


Roll Weight(kg)


2000


Packing Efficency(roll/hour)


20 – 30


Turntable Diameter(mm)


2000


Turntable Speed(rpm/min)


3 - 12


Turntable Height(mm)


460


Electrical Requirement


Three Phases 380V/50HZ


Power(kw)


2.0


Machine Weight(kg)


1080


Roller Diameter(mm)


150


Roller Center Distance(mm)


420


Machine Dimension(L×W×H)(mm)


2895×2000×2300


Air Consumption(ml/min)


1000